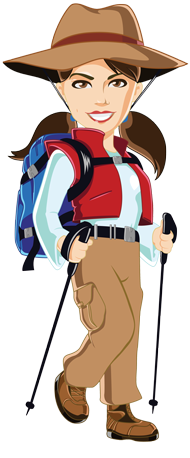 Welcome to Hiking Lady! Let the Adventuring Begin!
Do you like to hike? Do you enjoy the outdoors? Perhaps you're in the market for hiking gear but don't know what to buy?
Whether your idea of a hike is a walk on a secluded path close to home, a serene day hike in beautiful Yosemite National Park, or climbing a peak, Hiking Lady is the place to develop and share a passion for the outdoors!
---
Get started at Hiking 101! Here I share my tips for choosing the right gear you'll need for hiking, backpacking, and all outdoor adventures.
If you want to know what features to look for in a pair of boots, or figure out if you should be using trekking poles, start at Hiking 101.
---
Only You Can Prevent Wildfires: smokeybear.com
Do you love spending time outdoors? In Outdoor Fun find Places to Go, learn about the fun sport of Geocaching, and find a hiking group.
---
Hiking Lady Gear Reviews – All sorts of adventure apparel, gear, and footwear is put to the test! I know how to beat up gear, and I share what works best (and what doesn't!) on hiking, backpacking, and camping adventures. When stuff is great, I let you know, and when it is bad, I also let you know!
---
Take a look around, and then go enjoy the outdoors!
Thanks for stopping by! Now it's time to start exploring!
Be sure to sign up for Hiking Lady's free email newsletter to stay apprised of upcoming gear giveaways, hiking gear reviews, and more!
var icpForm3577 = document.getElementById('icpsignup3577');
if (document.location.protocol === "https:")
icpForm3577.action = "https://app.icontact.com/icp/signup.php"; function verifyRequired3577() { if (icpForm3577["fields_email"].value == "") { icpForm3577["fields_email"].focus(); alert("The Email field is required."); return false; } return true; }