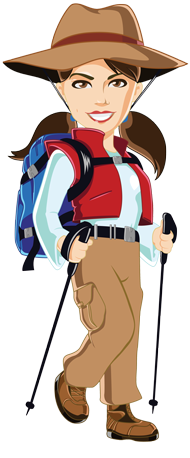 Welcome to Hiking Lady!
Do you like to hike? Do you enjoy the outdoors? Perhaps you're in the market for hiking gear but don't know what to buy?  Hiking Lady is here for you!
Whether your idea of a hike is a walk on a secluded path close to home, a serene day hike in beautiful Yosemite National Park, or climbing a peak, Hiking Lady is the place to develop and share a passion for the outdoors!
Do you like to hike but are concerned about your baby? Do you want to hike while pregnant? Then check out Hiking Lady's new site, Hiking Baby!
Take a look around, and then go enjoy the outdoors!
The Latest from Hiking Lady's Blog
I have tried numerous water purification devices over the years…pumps, tablets, and almost every UV lighted SteriPEN the company has developed. Hands down, my favorite is the SteriPEN Adventurer Opti. … Read more…
Hiking Lady readers!  This month we have a DOUBLE giveaway – my favorite hiking hat (the Outdoor Research Seattle Sombrero) and my favorite backcountry water purification device (the SteriPEN Adventurer … Read more…
For the last 8 years, I have had one favorite cool weather hiking hat – my Outdoor Research Seattle Sombrero. On cool days, misty days, and even sunny days, the … Read more…
New Hiking Lady Reviews
In this era of technical gear and apparel, socks continue to advance along with all of the hiking gadgets we have come to love. In the technical sock world, Swiftwick … Read more…
As many avid Hiking Lady readers know, there is a cool company in Sweden that makes excellent outdoor apparel for adults and kids alike – Woolpower! By way of background, … Read more…
Can active wear that is infused with copper really help alleviate joint and muscle pain? There is a company called Tommie Copper that makes a variety of compression wear with … Read more…