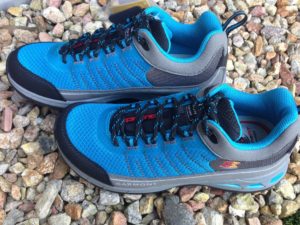 Anyone need an awesome new pair of hiking shoes!? Then this month it is YOUR chance to win a pair of Garmont's Nagevi shoes.
I had a chance to test out a pair of Garmont Nagevi's myself, and I can attest to the quality of the completely re-designed Nagevi shoe. Garmont did a total revamp of this classic, and there are a lot of nice additions and positive changes, as I discussed in the review.
Garmont North America has generously offered a pair of Garmont Nagevi's to one lucky Hiking Lady reader! If you're a man, you'll be able to get the men's version of the Nagevi in your size. Women have the choice of the Nagevi's as shown, in your size of course.
Enter the June Gear Giveaway by writing a comment below for your chance to win. Winner will be selected at random, and announced June 30, 2016.
Thank you to Garmont North America for sponsoring this Hiking Lady giveaway!
Be sure to check out the Garmont North America Facebook page to learn more about the brand and their amazing footwear!
Winner Announced!
Congratulations to Sharyn Douglas! She will be receiving a pair of Garmont Nagevi's in the size and color of her choice. Thank you to everyone who entered. Happy trails!