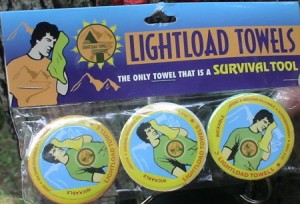 I never expected to see a wickable towel that is the size of a silver dollar, extremely durable, absorbent, AND quick drying…but the LightLoad Towels made by Dyna-E are just that. They got in touch with me and asked me to check out their LightLoad (12 x 24 inches/30 x 60 centimeters) towels and the LightLoad Beach Towel (36 x 60 inches) and I was pleasantly surprised.
Before I became aware of LightLoad towels, I took either a bandana or a quick dry towel like the MSR face towel on backpacking trips. These towels are a better alternative because they are lighter, smaller (when in the package) and cheaper. Now I'll be tossing at least one of the LightLoad Towels in my pack, and will keep one in my First Aid kit. They only weigh 0.6oz and take up virtually no space when packaged.
LightLoad vs. Paper Towel Absorbency
Because of their small size and light weight, I was expecting little more than a rough, flimsy towel that would not absorb anything. In fact, the LightLoads are just the opposite. When I pulled it out of the waterproof packaging, I tried my hardest to tear it, but to no avail. Then I used it to sop up some water, and the towel did the job well and became even softer after I used it. Plus, it was extremely easy to wring out the water.
Additionally, the LightLoad Towel is advertised as "The Only Towel That Is A Survival Tool" – since I am not the greatest at starting campfires, I put a match to one of the towels I tested and it lit up immediately! Not surprising because they are 100% vicose, but this is great to have if camping. The only drawback is that it needs to be washed on a delicate cycle or handwashed (my washing machine was too rough for the Lightload Towel), and some other towels on the market can take more washing machine abuse. But given the size and price, I'm a fan of the LightLoad Towels!
LightLoads are advertised to have even more uses including:
Towel
Washcloth
Mask
Fire Starter
Insulation
Diaper
Wind/Winter Scarf
First Aid Supplement
I also tried out the LightLoad Full Size Beach Towel. While I would not take it backpacking because it weights 5oz, it is great for a day at the beach, car camping, or an addition to your home emergency kit. It was a little bit harder to unpack than the small LightLoad Towels, but once I started using it to dry off it worked great.