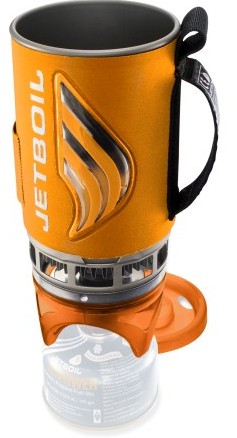 The JetBoil Flash is the latest and greatest stove, and is the newer version of the model I own, the JetBoil Personal Cooking System. Since the JetBoil Personal Cooking System is becoming harder to find in stores now that the JetBoil Flash is on the market, I've decided to share my thoughts on this little stove.
While I have yet to buy a Flash stove for myself, I am very happy with its predecessor, the JetBoil Personal Cooking System ("PCS"). The new features on the Flash compared to the PCS are:
Temperature indicator. The insulated "cozy" around the cup has 3 stripes that light up when the contents are getting hot, so you know when your water is boiling
See-thru lid. My PCS has a black lid, so I have to take the lid off to see if my water, soup, etc, is boiling. This see-thru lid sure is a nice feature!
Measuring cup is also see-thru. On the JetBoil PCS, it is black, so it can be tricky to read the lines and get a precise measurement.
I bought my JetBoil Personal Cooking System because I wanted a backpacking stove that was easy to use, compact, and reliable. I was tired of flames dying out with the slightest breeze. Several of my friends had JetBoils before I decided to buy mine, and after trying theirs and seeing them in use I knew I had to get one!
The beauty of the JetBoil PCS is that all of its parts pack into itself, making it easy to store in your backpack. The mug is insulated, which keeps my hot chocolate nice and warm on cold nights, and it makes it easier to boil water quickly.
On a snow camping trip with friends last year, those of us with JetBoils were the happiest – the flame did not go out with wind gusts, we were able to melt snow quickly and easily, and we had the hottest hot chocolate of anyone in the group. I typically even drink out of the mug while the fuel canister is still attached.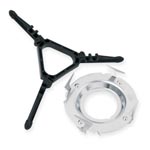 A small accessory that is worthwhile buying is the JetBoil Pot Support and Stabilizer. This enables you to convert your JetBoil into a stove that is compatible with any pan. I use mine with my SnowPeak titanium set when I want to use a pot that is bigger than the JetBoil mug, and also I use the Pot Support and Stabilizer when I make my famous backcountry scrambled eggs 🙂
---
See More Hiking Gear Reviews: