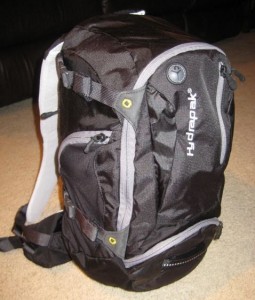 I've been a long time user of CamelBak products when I hike, backpack, snowshoe, and explore the outdoors. When I heard about the new Hydrapak reversible reservoir system, I had to give it a try!
I've been testing the Hydrapak Reservoir inside the Hydrapak Morro daypack, and am loving it! Why? The Hydrapak Reservoir is "reversible", which means that it is a dream to clean. It is made of BPA free materials (thermoplastic polyurethane). At first I wasn't convinced that the simple clip could keep the water inside, especially when inverted… but I tested that and I have yet to experience any leaking.
Best Features of the Hydrapak Morro
Reservoir Easy to Fill and Clean. The Hydrapak Reservoir is easy to fill up since it is essentially a 100 ounce (3 Liter) bag. This design is very convenient for filling and cleaning.

Filling Hydrapak Reservoir

Easy to wear hydration tube. The Hydrapak comes with a magnetic clip, so you can orient the hydration tube wherever you want. So instead of having my hydration tube flopping around as I hike, I can now use the magnetic clip and have the tube conveniently secured on my chest.

Wearing the Hydrapak Morro - I put the magnetic clip on the sterum strap

Comfortable. The Hydrapak Morro is comfortable, and the padding and ventilation are similar to other well designed packs.

Putting the Hydrapak Reservoir inside the Morro backpack

Lots of great storage and little pockets to stay organized. There's a padded media pocket to stash your cellphone or iPod and several small pockets on the inside to keep keys, pens, first aid, and snacks organized and secure. The main compartment opens up wide so that it is easy to access all of the contents you stash inside.

Inside Pockets of the Hydrapak Morro
What Could Be Improved?
Waistbelt. I did find that with a lot of weight in the pack it would have been nicer to have an even more secure waistbelt.
Specs
Weight: 1 pound 13 ounces
Capacity: 800 cubic inches
Other items included: Hydrapak 100 ounce reservoir, plug and play hose system, quantum magnetic clip
Price: $110
Overall I really like this backpack, particularly the Hydrapak hydration system. I would recommend this for day hikers looking for a versatile, affordable pack.
---
See More Hiking Gear Reviews: