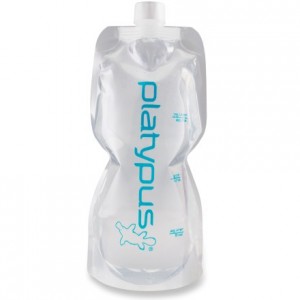 Platypus 1.0L/34oz. Collapsible Water Bottle
When I first started seeing friends bring their Platypus bottles along on hikes, I thought they were just expensive pieces of plastic. But I soon came to realize how wonderful they are after I bought one for myself. What I really like about Platypus bottles is that when you're done drinking the contents, you can simply flatten it and roll it up and put it in your back. When it is empty, it hardly takes up any space.
More importantly, these bottles are extremely durable – I've taken mine in the snow and even when the water inside freezes, the plastic doesn't crack. I typically bring my Platypus along filled with a sports drink, because I would not want the sugars to clog up my CamelBak bladder. I've never poured boiling liquids into mine, but they are supposed to be able to withstand boiling too. A small animal did chew through the bottom corner of one of my friend's Platypus bottles last month, so you should always have at least one Nalgene bottle with you as a backup.
They're great for backpacking trips when you want to have extra containers along to fill up on drinking water, plus the weight of the bottle is just a fraction of a Nalgene bottle.
The only drawback is that they are a little difficult to clean, but that is no reason not to get one.
Platypus collapsible bottle, 1.0L/34oz., BPA free
---
See More Hiking Gear Reviews: