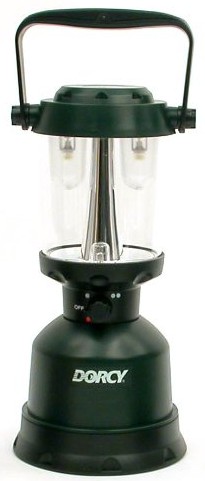 Lanterns make a great light source for camping and other nighttime outdoor adventures! I've been testing the Dorcy LED Twin Globe Lantern, a waterproof and submersible lantern. It provides great light, is relatively light weight, and it floats! The designers at DorcyDirect have an innovative product with this 160 lumen twin globe LED lantern!
Product features:
LED light; 160 lumens. This lantern provides a strong, bright light, so you don't trip on the way to the bathroom at a campsite!
Three Power Settings. I really like this feature. It enables you to preserve battery life when you don't need super bright light. On the highest light setting, the lantern will run for 175 hours on a set of 4D batteries. With just 1 of the 2 LEDs lit, it will run for double that, so 350 hours. If you only need an amber light, it will run for 700 hours!
Sturdy design. The lantern can be tossed around a little and still hold up ok. It has a convenient handle on top so you can attach it to a tree or tent.
Waterproof/submersible. This is really cool…how many other lanterns can float in water, and still operate?

Specs:
Requires 4D batteries
Weight: 1.8 pounds
Height: 13.63 inches
List Price: $49.99
Related articles:
---
See More Hiking Gear Reviews: