QUESTION:

Alright, Hiking Lady, it's a 'personal' question but a must-know. How do you deal with those pesky monthly menstrual periods when on multi-day snow trips? Any ideas for a novice to the mountains? I've done plenty of backpacking but am new to the mountaineering scene and would love advice from fellow ladies. Thanks!

Anonymous
ANSWER:
Hello fellow female hiker!
Those pesky monthly menstrual cycles can be quite an annoyance when backpacking and mountaineering, but don't let it stop you from enjoying your outdoor adventures! There are plenty of options, from tampons to Diva Cups and Sckoon Cups! Read on!
Just like when you're backpacking or hiking, find a private spot so you can change your stuff. It can get awfully cold in the mountains in the winter, so try to be quick.
My tips from lots of personal experience:
Bring lots of unscented wet wipes.
Tampons are smaller and less messy than pads. Be sure to use unscented tampons in bear country.
Bring lots of ziplocs and stay organized. I pack all of the unused feminine hygene in one ziploc bag, and used ones and toilet paper in smaller ziplocs, which I then consolidate into one larger Ziploc "trash bag" – I find the freezer kind are best. They're the thickest and are least likely to tear open.
Pack carefully. Your sanitary supplies will take up space in your pack, so you may have to sacrifice some space that you normally allocate to something else. Be sure to pack carefully and allow enough room for your "trash bag". If you can, keep the trash away from your food while you hike.
If in bear country, use a bear canister. This is where the layers of ziplocs come in handy – you surely don't want your "trash" that close to your food, but remember that these are "scented" items and you don't want to attract bears. I squish the "trash" bag to the bottom of my bear canister. If you're doing winter travel while bears are in hibernation, you don't need to worry about this.
Stay hydrated. Being in the mountains will already require extra water, but this time of month you'll want to be sure to be even more hydrated!
Special tips if you're in bear country:
There is a lot of debate as to whether or not bears are attracted to menstrual blood, and I researched this fully before ever backpacking during that time of month. I am comfortable with the studies' results, and if you want to read up on this topic here's a great website.
And of course, be sure to follow Leave No Trace principles! Pack it all out with you.
An Environmentally Friendly Way to Avoid Tampons & Pads!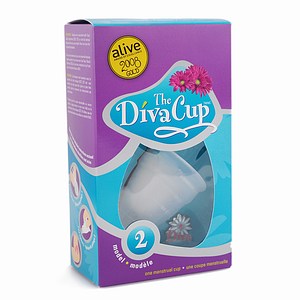 Several Hiking Lady readers have told me that they are avid users of the Diva Cup. It is an environmentally friendly, internal cup that has been around since the 1930s (more modern design now!) that eliminates the need for tampons and pads.
Check out some of the comments on this blog post and also on the Hiking Lady facebook page to hear why some female hikers swear by the Diva Cup and the Sckoon Cup.
Hope that answers your question! Happy trails!
Hiking Lady
Do you have a question for the Hiking Lady?