QUESTION:
I have narrow feet and am having a hard time finding a pair of hiking boots that fit well. My heel slips and rides up when I hike uphill. Any suggestions?

-Pat, Durham, NC
ANSWER: Sorry to hear that! I have a narrow feet too, so heel slippage is something I'm unfortunately very familiar with.
First, be sure you buy hiking boots for narrow feet – certain brands run narrower than others, such as Teva (for water shoes), Vasque (for hiking shoes) Asolo (for hiking boots), and La Sportiva (for mountaineering boots). Others run very wide, so just make sure you start off on the "right footing" by sticking to the narrower brands.
Next, use insoles if you aren't already. I like Superfeet (my review on Superfeet is here). That will fill up the heel of the boot and help a bit with slippage.
Finally, and very importantly, make sure you are lacing your boots properly. There is a special lacing technique for people with narrow feet. Check out my pictures below. Please excuse the dirt on my well used (but loved) Vasque Kota hiking shoes 🙂
Step 1: After lacing up toward the top of the hiking shoe as normal, loop the lace through the last hole as shown in the picture.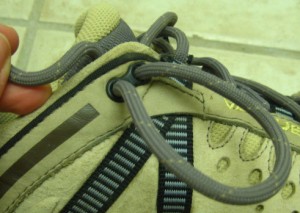 Step 2: After you've made the loops, thread the remaining lace through the opposite loop, as shown in the picture. Then tighten the laces.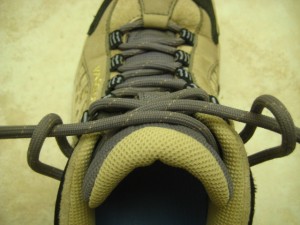 Step 3: Tie as you normally would. Double knots are helpful so your laces don't get undone!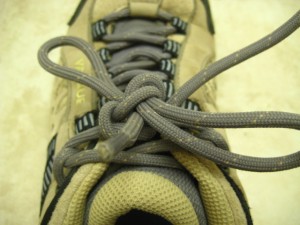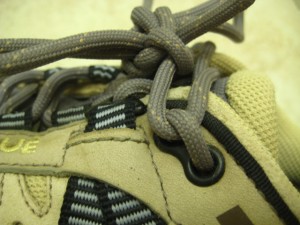 This technique will help keep your heel in place. Good luck and if you need more info on boot shopping tips check out my instructional video of how to lace hiking boots to prevent heel blisters.
Happy trails!
Hiking Lady
Do you have a question for the Hiking Lady?