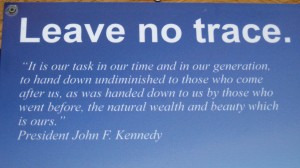 Most of us who love to spend time outdoors also love to do whatever we can to help live a more sustainable life.
Here are 10 things we each can do to make our lifestyles more sustainable and environmentally friendly:
Bring your own shopping bags to the grocery store. One of my favorite markets is Trader Joe's, and here in California if you bring in your own grocery bags they even reward you by giving you a raffle ticket for a chance to win a monthly giveaway of a store gift card! That extra incentive sure is nice!

BPA Free Water Bottle

Adjust your thermostat. Turn your thermostat a few degrees lower in the winter, and a few degrees higher in the summer so you use less heat and air conditioning. Did you know that you'll burn more calories this way too?
Get to love your Nalgene or Kleen Kanteen bottle. Why do you need plastic bottles anyway…just grab your favorite BPA free water bottle and fill it up at the tap for your drinking water at home, at work, on the road, and wherever you go!
Drive less. Walk and bike more. A nice way to help stay in shape for hiking (and save money on gas and help the environment!) is to hit the pavement whenever you can. If possible, walk to work, use your bike to run errands (a little basket in the front is handy), and carpool whenever practicable.
Recycle of course, but also reuse. How about all the ziploc bags you use on your backpacking trips… they can be reused for your next trip. So can the trash compactor bags you take backpacking.

Plant a garden

Plant a garden. If you have a backyard, why not grow some vegetables? Or plant a tree.
Turn off the lights. It really isn't that hard, and you might start going to bed earlier… As Ben Franklin said, "early to bed, early to rise, makes a man healthy, wealthy, and wise."
Wash and dry full loads of laundry. You'll save water, electricity, time and money. The fewer the loads, the easier!
Buy items in bulk. The less packaging the better. Do you really need individually wrapped oatmeal every morning, or could you just take a scoop out of the jar?
Go digital. Do you really need all those CDs? Buy music online. Download movies online. Read the newspaper online.