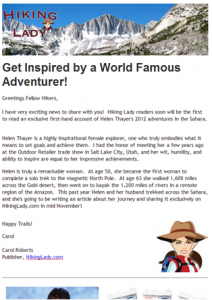 Are you on the Hiking Lady email newsletter list? We send out a monthly email with fresh content about upcoming articles, gear tips, and product reviews.
Last month the avid Hiking Lady fans who had already signed up for the email list found out that the world famous explorer, Helen Thayer, will be writing for Hiking Lady this month! She's going to be sharing stories from her adventure across the Sahara last year! Stay tuned to find out more.
Take a peek at last month's Hiking Lady email newsletter, and be sure to sign up below to ensure you are on the list!
Enjoy!
var icpForm3577 = document.getElementById('icpsignup3577');
if (document.location.protocol === "https:")
icpForm3577.action = "https://app.icontact.com/icp/signup.php"; function verifyRequired3577() { if (icpForm3577["fields_email"].value == "") { icpForm3577["fields_email"].focus(); alert("The Email field is required."); return false; }
return true; }