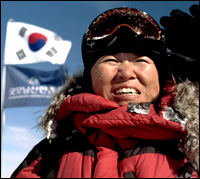 History was made today!
On April 27, 2010, the South Korean woman Oh Eun-Sun returned from completing her climb of Annapurna in Nepal, the last of the 14 highest peaks.
A few months ago I wrote about Oh Eun-Sun's quest, and it brings a smile to my face that a woman has now joined the ranks of the world's foremost climbers!
Oh Eun-Sun is only 5 feet 1 inch tall, but despite her diminutive stature, she has stood on the top of ALL of the world's peaks that are over 8,000 meters (26,247 feet) high.

In 1997, she climbed the first of her 14 peaks, the Himalayan mountain Gasherbrum II. After years of training and successes on other peaks, she finally achieved her dream.
"For a while after a successful climb, I seriously consider quitting, but I find my heart longing for the exhilaration I had on the top of a summit." – Oh Eun-Sun, describing her passion for mountaineering to The Korea Times
There has been a lot of news recently about the "race" to become the first woman to accomplish this feat – her rival, Edurne Pasaban, claims that Oh Eun-Sun's sherpas said that they didn't make it to the peak because of bad weather on Mt. Kangchenhunga. Currently it is under investigation, so we'll see if Edurne Pasaban takes Oh Eun-Sun's place as the first woman to officially climb the 14 highest peaks.
The Spanish climber Edurne Pasaban has just one more mountain to go, Mount Shisha Pangma. Best of luck to her as well as the attempts her last summit.
Regardless of the outcome of the investigation into Oh Eun-Sun's summit on Mt. Kangchenhunga, Oh Eun-Sun is an amazing mountaineering, and congratulations to her for summiting the highest mountains in the world!